Custom Plastic Moulding Service for Injection Mold
Custom plastic moulding
From a SGS Exemplify Custom Plastic Parts moulding manufacturer in Taiwan:

Intertech is a plastic molding expert, with rich experience and knowledge in running
each kind of plastic materials, also with excellent molding skill, Intertech helps
customer to well organize their product design, tooling and manufacturing that consistently meets customer's standards in fast cycle, economic investment..etc.

We will get you your parts manufactured on-time and within budget. Also, we will provide
good communication which makes your project running easier.
Custom Plastic Manufacturing Capabilities:

We have 100-3300T machine in our associated factory. We can manage regular injection molding, high speed molding, two colors injection molding, gas assisted injection molding and thin-wall packing products molding job in Taiwan. Semi-assembly is also provided.
Some customized packing, such as welding, painting, boxing…etc are provided as per your need.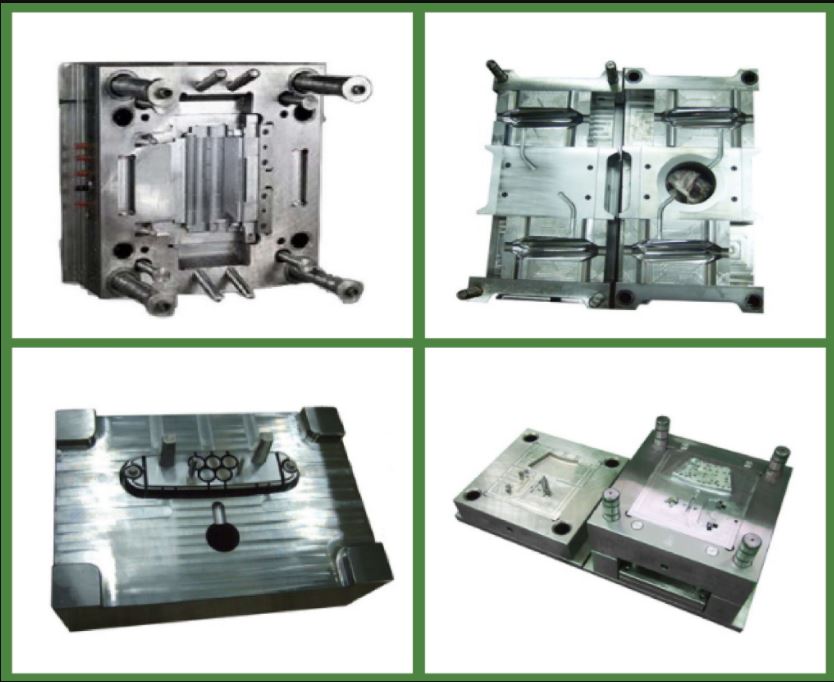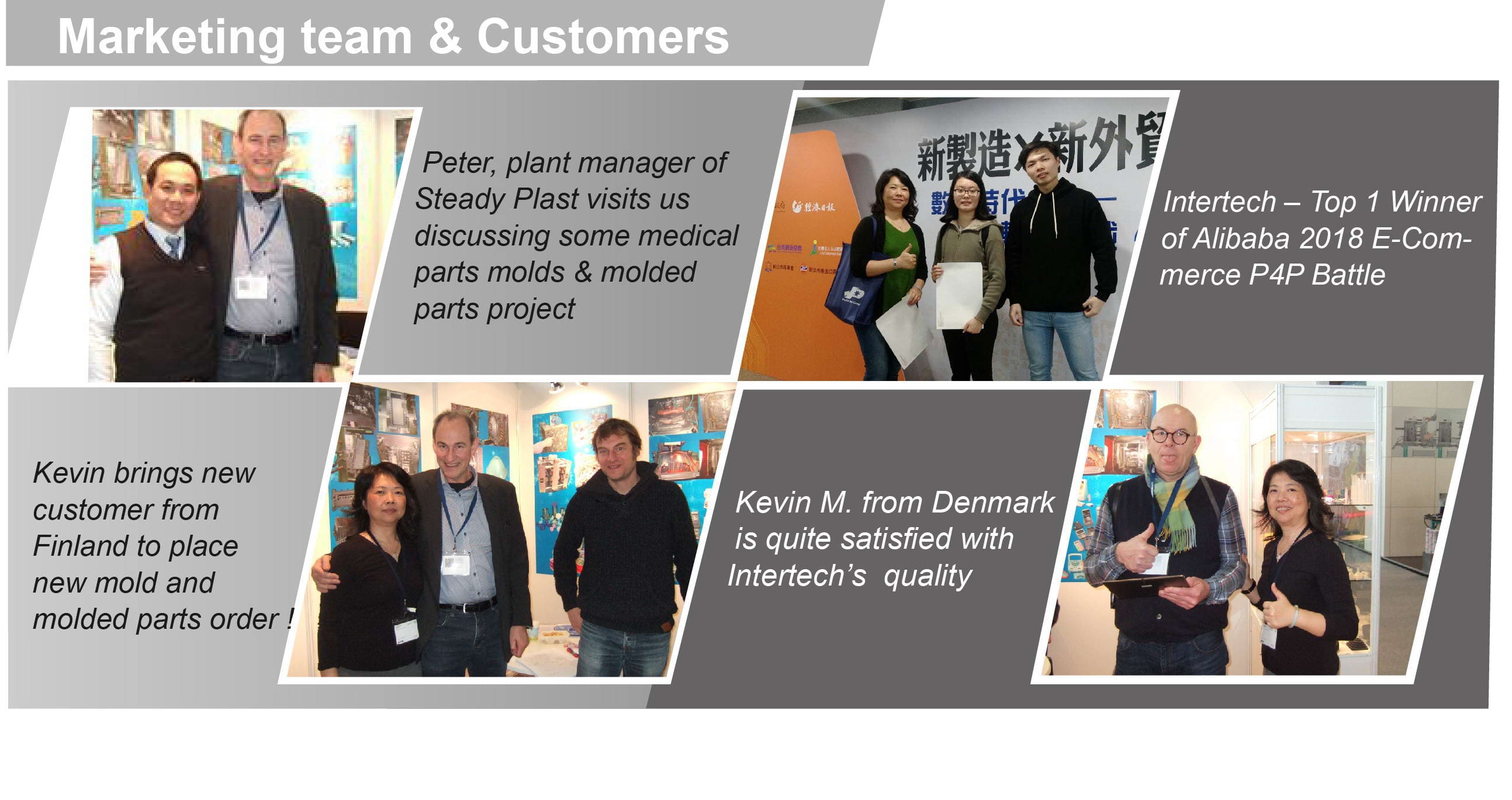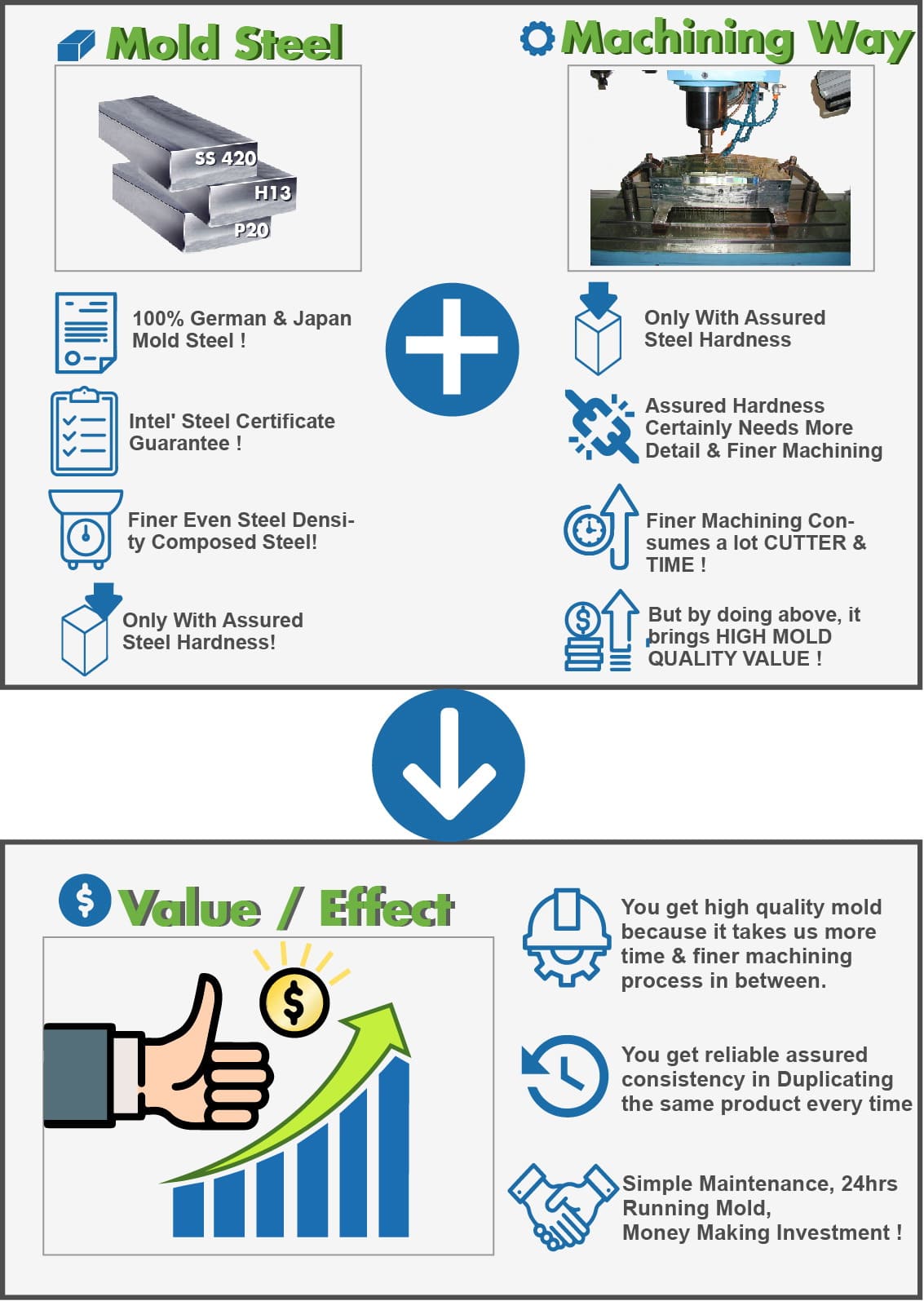 Mold Steel Advantage Finer Machining Way Benefit
100% German & Japan Mold Steel ! Only With Assured Steel Hardness
Intel' Steel Certificate Guarantee ! Assured Hardness Certainly Needs
Finer Even Steel Density Composed Steel! More Detailed & Finer Machining !
Only With Assured Steel Hardness! Finer Machining Consumes a lot CUTTER&TIME
But by doing above, it brings HIGH MOLD
QUALITY VALUE ! !
High Mold Quality Value
You get high quality mold because it takes us more time & finer machining process in between.
You get reliable assured consistency in
Duplicating the same product every time !
Simple Maintenance, 24hrs Running Mold, Money Making Investment !
-- Our Mold design, Mold Engineering Power --------
For our mold design capability, up to request, we use mold flow analysis to help customer to analysis whether their parts design can carry out qualified product or not in mold and in real production! Also, from above analysis, we can check whether the parts will get deformed or not. By doing such, we successfully help customer to find out the problem and solve the problem before making the actual mold and good economic production efficiency. By doing such, we raise up the mold trial successful rate and decrease a lot of project development time and even we reach the mold trial success at one time.
(Send your 2D, 3D now to get our quick quotation! )
German,Japan Mold Steel, Easy Production Design
For our injection plastic tooling mold steel, we mainly use P20, H13, stainless steel mold steel which are imports from Japan and Germany only. Our expertise is to design the most optimized injection mold production efficiency and performance for fitting customer's plastic injection molding machine. Our high precision injection mold level keeps customer operate this injection mold with only simple maintenance. We have many key injection mould customers from worldwide countries. Welcome to contact us for any injection mold fabrication support !
(Send your 2D, 3D now to get our quick quotation! )
-- Mold Development & Molding Service --------
We develop the mold and making production molding service for customer. Mass Production project and low quantity project welcome, molding with customer's logo is available. Assembly and packing service is available.
(Send your 2D, 3D now to get our quick quotation! )
Expert of Plastic, Silicone & Metal Punch Project
Intertech is an very rare supplier who knows all technical and application knowledge covering for plastics, silicone, LSR and metal punch materials.
(Send your 2D, 3D now to get our quick quotation! )


| | |
| --- | --- |
| Product Name | Custom Plastic Injection Mold price |
| Plastic Materials: | PS, ABS, PP, PVC, PMMA, PBT, PC, POM, PA66, PBT+GF30% |
| Mold Structure: | Injection Mould, Plastic Mold, Overmould, 2k mould, Die-Casting Mould, Thermoset Mold, Stack Mold, Interchangeable Mold, Collapsible Core Mold, Die Sets, Compression Mold, Cold runner system LSR Mold,…etc. |
| Mould Base: | HASCO standard, European standard, World standard |
| Surface Finish: | Texture (MT standard), high gloss polishing, Mirror finish etc |
| Cavity / Core Steel: | P20, 2311, H13, 2344, Starvax 420, 236, AdC3, S136, 2312, 2379, 2316, 2083, Nak80, 2767 etc. |
| Cavity: | Single cavity, Muti Cavity, based on customer's requirement. |
| Hot / Cold Runner: | HUSKY, INCOE, YUDO, HASCO, DME, MoldMaster, Masterflow, Taiwan made brand…etc. |
| Mould Life: | 1,000 to 1,000,000 shots (according to your working environment) |
| Softwares: | CAD, CAM, CAE, Pro-E, Solid works…etc. |
| Equipments: | High speed CNC, standard CNC, EDM, Wire Cutting, Grinder, Plastic Injection Molding Machine for testing mold from 50-3000T available. |
| Mold Lead Time: | T1, 20~50 days, parts measurement report (upon required). |
| Annual Output | 250 sets of mold |
Intertech makes good quality new custom mold and molded parts for any plastic, silicone and metal project, please send us your project now !
Sample order is available after our discussion !

We can give you some suggestion for our best selling mold and molding parts project working way !
May we have your Whatsapp number ? we can talk there more quickly or you
can add ours Whatsapp: +886.9328.66329